Destroy Islamic University near Tirupati Temple! Remove all Islamic constructions from Hindu vicinity as they don't allow anything near Kaba !! Stop all Islamic Institution, Mosque, Madrasha, Grave yard, Muslim Market, Muslim Cluster, Slaughter house, Beef shop, Halal Meat Shop, Muslim Hotel near/within Hindu area!!! Those will end your Hindu identity ultimately!!!! Muslims want to convert you as a Muslim or to kill you as a Kaffir!!!!! ~ Upananda Brahmachari. 
Alarm over Islamic university on temple land in Tirupati.
A proposed Islamic University is threatening to disturb the peace and tranquility in the temple town of Tirupati in Andhra Pradesh, says Vicky Nanjappa…..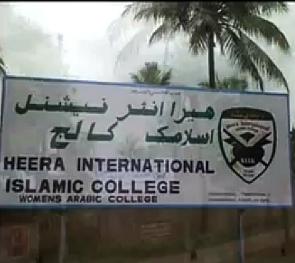 Vicky Nanjappa | Rediff News |  21 Oct  2013::  History shows that the land on which the proposed university is coming originally was part of a temple pond. It belonged to the Venkateshwara temple which was built in 1542. This temple which housed the Lord Venkateshwara statue was destroyed by Hyder Ali in 1782.
While this has been part of the history books for several generations, it is ironic to note that the same land was handed over to a university which the authorities today claim has no permission to function. No official is able to state with confidence or give correct details about how the temple land was handed over to this university which is under construction.
The protests against the setting up of this mystery university are gaining momentum, and interestingly, even the Muslims in the temple town too have come out openly against the setting up of this university.
The local authorities have made it clear that no permission has been granted for this institution. An official said that what he hears is that the university aims at propagating Islamic culture, but also adds that it cannot function as there is no permission.
The university in question is the Heera International Islamic College, founded by a woman known only as Nowhera Shaikh.
The website of this university gives no concrete information about the institution. Most of the webpages have garbled messages on them. With regards to the founder, all the information the website has is that she is the chancellor of the university.
Shaikh is from a family which dealt in wholesale business of vegetables, fruits and textile products. She claims to have started an Islamic School for girls at Tirupati in the name of 'Madrasa Niswan' in 1998, (under a society registered with the Registration of Societies Act, AP, India, No: 386), with around 150 students, who she claims she provided with free education and lodging facilities.
She also claims that she has been nominated for the Indira Gandhi Priyadarshini Award in December 2012.
Several organisations are doing everything that they can to stop the university from coming up. Although the construction is on in full flow, there is no explanation about when the college would commence its activities.
Several Hindu organisations have taken up the issue and are protesting the setting up of this university. Interestingly, they have been receiving a lot of support from the local Muslims who say that this university is bad news. The Muslims who pray at the Tirupati temple feel that the town was peaceful and now with this university there is a good chance of peace being disrupted.
They feel that this is the doing of the 'West' who are trying to 'worsen relationships between Hindus and Muslims'. Shaikh who had met with a couple of Muslims before the project commenced, and had claimed to be a resident of Tirupati, but no one remembers seeing her before.
Although Shaikh, during a recent press conference, claimed that she had the permission to run a college, there was nothing concrete shown to this effect. She had taken part in the press conference with around 300 burqa-clad women and had claimed that those would be the students in the university.
Several Muslim organisations in Tirupati have decided to fight against the university now. They say that they want no trouble whatsoever and are happy that at least 400 Muslims worship at Lord Balaji's shrine everyday.
Read more from archive:  Sinister design to change the Hindu Heritage of Tirupati by building an Islamic University for running Jihad from nearby. Villagers alleged for a racket to occupy the lands of Hindu Temple. Posted by hinduexistence on September 18, 2013.
Illustrations are from site moderators. Due Courtesy to the sources above.